The beginning of the Covid-19 Pandemic in March 2020 created fear, confusion, upheaval from our everyday existence. Our artistic way forward halted.
A glimmer of hope in August 2020allowed us to develop a wider participation through a 5 person workshop, guided by the government guidelines at that time of 2m social distancing, hand sanitiser, meeting in open spaces with a maximum of 6 people. The participants immediately found a joy in the mark making, fun, excitement and good dialogue between each other. It provided a good opportunity for a relaxed, safe environment in which to engage in a process with no concluding outcomes, spontaneity, freedom, serendipity all playing their part. We were aiming to reframe "play" as creative "work".
Having completed our initial body of work in 2020, we started to pursue research and development into global domestic brush production methods. The idea of liberating domestic brushes is novel and strikes a chord in the changing world for women and domestic workers. We wanted to broaden this project to include a global awareness by researching brushes used in different parts of the world; the different organic materials used and the methods of brush production as well as the different environments the materials occur in and the homes they are used in. A connection is formed directly through Big Brushes with other people, mainly labour round the world.
By creating art with these brushes we seek to turn on its head or at least articulate the question around the idea that there is inferior status accorded to domestic work and workers, for example why is sweeping somehow dismissed as menial or low status? Part of the Covid time has been a questioning that it is in fact such workers who society often dismisses as low skilled, that are the most essential. This project reflects this now shifting perspective.
We sought information and help from the corporate business and potential partner "Hillbrush Company", Mere. Visiting the site and talks proved fruitful and a partnership was formed in May 2021. The donation of 5 quality natural fibre brushes started our questioning into what kind of mark making these brushes would create.
Once again, we required a space large enough to make this enquiry. We searched for possibilities and through enquiry, we were granted space at the Black Swan Arts in Frome for a period of 3 months, a pilot residency. The space was perfect, space to both create on the floor and hang the work after creation.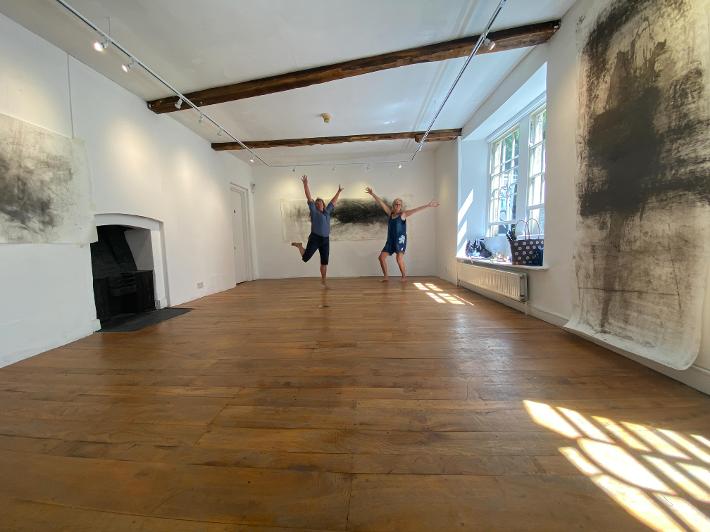 We wanted to match the natural brushes with naturally found materials, so we sourced earth from difference places, chalk from the downlands, charcoal and soot, water from sea and river.
"Creative work is play. It is free speculation using the materials of ones chosen form".
(Stephen Nachmanovitch quotation from Julia Cameron, The Artists Way. Pg.95)
The second stage of artworks matching natural brushes with natural pigments found their own voice. They became "monumental" in the gallery space and we soon began to see the relevance of the elements, air, water, earth and fire. We then knew these pieces of art would make a striking exhibition. We have marked these pieces of work for the Somerset Art works Festival year 2022, sanctuary places, where we also feel they resonate with a "dust to dust" and "ashes to ashes" materiality.
We soon found the work was beginning to attract attention and we were interviewed for a podcast for Frome FM Radio, seeing things with David Chandler as host and also art critic. The feedback on the work sited it as authoritative, engaging and surprising.
Our second body of work in this period involved the continued exploration with household paints but specifically with the brushes we were gifted by Hillbrush.
On very large canvas on the floor.....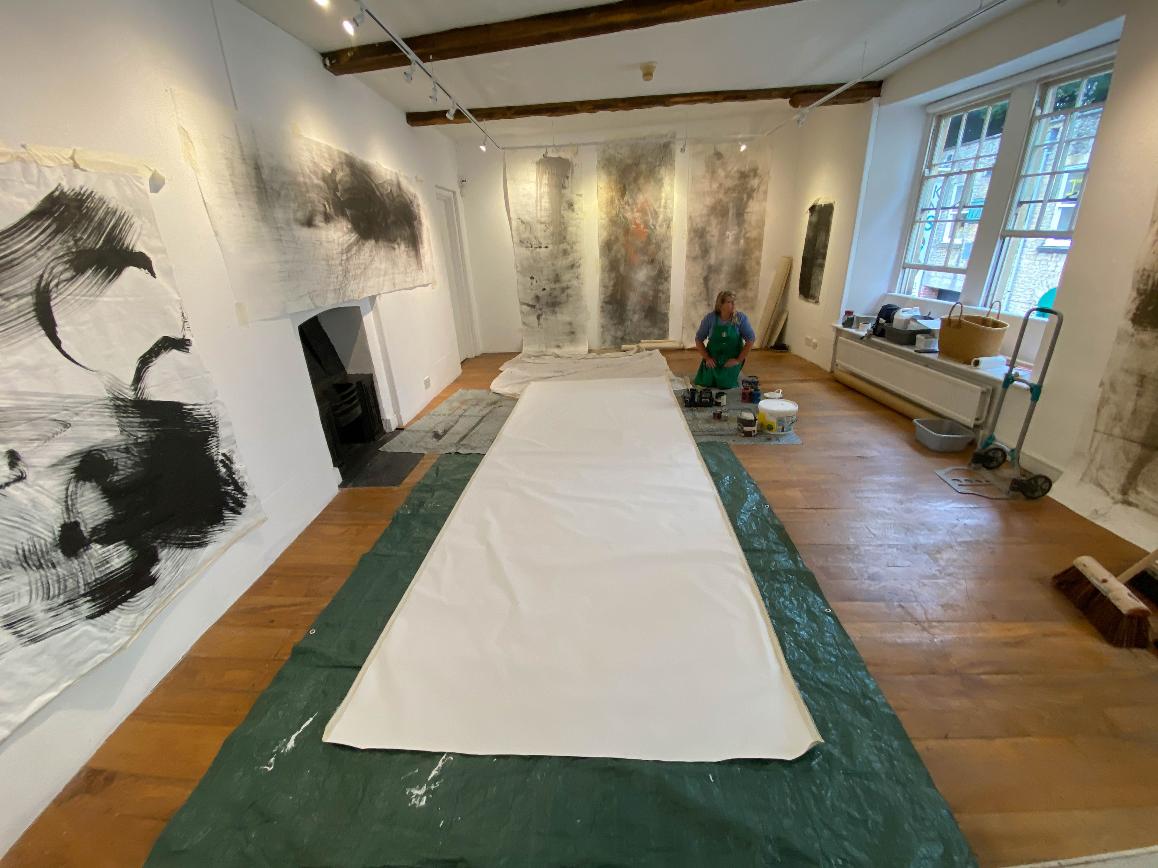 Large paper wall hangings were also created....
This little seed of an idea has already had a timeline of its conception in 2019 into planning for future 2022 events, but we are especially unaware of where this journey is really going to take us and that is the beauty of this project and how it travels into unknown territory which is sometimes very exciting and also somewhat extremely daunting.
© Copyright Big Brush Art